The Simple DEX & Reward Token
Learn About HODLX Token and the HODLX DEX
View our frequently asked questions to learn more about HODLX Token and the HODLX Decentralized Exchange (DEX). Visit HODLX.exchange at any time to stake, farm, and buy HODL/HODLX.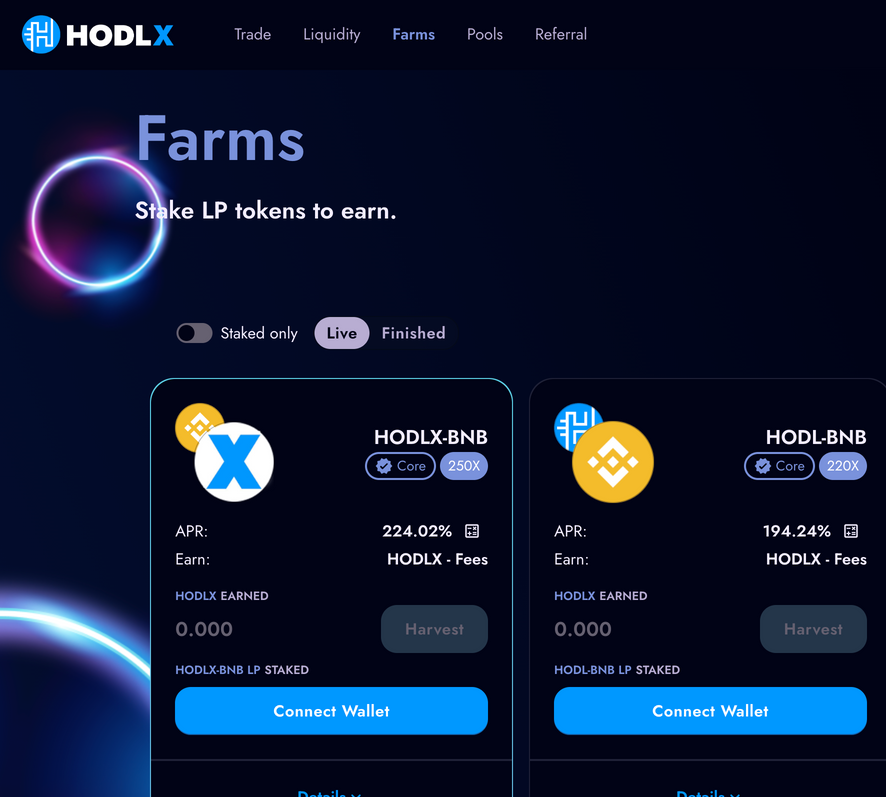 What is HODLX Token?

It's the reward token of HODL's decentralized exchange – HODLX. With no taxes, the token is ideal for day-traders and those wanting to stake and farm to earn HODL, HODLX, and partner tokens.

What it is the key info on HODLX Token?

o Standard > BEP-20 (Binance Smart Chain) o Contract Address > https://bscscan.com/token/0xAeBdbcc7d6821E3924EE5167b4138a43c19Cf681 o Audit > https://www.coinscope.co/coin/hodlx/audit o Total supply > 3,265,800,273 (as of 21 Apr 2022) o Transaction tax > 0%

What is the utility of HODLX Token?

Stake and farm HODLX to earn more HODLX, HODL, or other partner tokens. Swap fees are sent to the HODL Token BNB reward pool to generate further passive income for HODL holders.

Can the HODLX token supply increase?

Only new tokens can be minted as rewards on staking, farming, and when earned through the referral program.

What are the taxes on HODLX token?

There are no taxes on HODLX token, making HODLX the perfect coin for day-traders. For those who earn HODLX through staking, farming and referrals you can swap it for other tokens or stable coins – tax-free!

How can I buy HODLX Token?

You can buy HODLX token through the HODLX DEX with 0% transaction tax (using slippage of just 1%). You can swap using BNB (BEP20), BUSD (BEP20), HODL, and WBNB (BEP20).

How can I sell HODLX Token?

You can sell HODLX through its own DEX with no tax (using slippage of just 1%). You can swap using BNB (BEP20), BUSD (BEP20), HODL, and WBNB (BEP20).

What are your future plans for HODLX token?

HODLX token will become synonymous with the reward token of a simple DEX that focuses on passive income generating tokens. There is a budget and strong plans in place for marketing the token to bring in new investors all around the world as the DEX develops and adds both more utility and strong innovation.

What is HODLX DEX?

HODLX is 'the simple DEX' with farming and staking pools available along with a referral scheme.

What's unique about HODLX DEX?

HODLX is the only place where you can stake and farm HODLX and HODL. In addition, all swap fees are sent to HODL's BNB reward pool to be distributed to HODL Token holders! HODLX DEX is entirely decentralized with all liquidity provided by and held by investors bringing about safety from rug pulls.

What can I do on the DEX?

You can swap a range of tokens, farm, stake, and earn through referrals. If you are a HODL token holder, HODLX is a great option for smaller investors or as an additional income source in times of lower volume if the reward pool payouts are lower than gas fee charges.

What are the future plans for the DEX?

HODLX DEX is going through constant development and will list other projects that specialize in passive income generation. More farming and staking pools will be added on an ongoing basis and new features will be added, including earning higher APR by connecting with a wallet that holds a HODL Hand NFT, a one-click buy button, bonus token features, and more.

Can I stake on HODLX DEX?

You can stake your HODL, HODLX, and other tokens to earn more tokens of other exciting projects or stable coins. Staking works by placing just one token into the pool. The APRs are lower than farming but the risk is also a lot lower. You can unstake tokens at no cost by selecting the '-' button and choosing how many of your staked tokens you wish to remove from the staking pool. There are no taxes on adding or removing tokens from staking, just the nominal exchange and gas fees.

How do I stake on HODLX Dex?

To stake a token, visit x and select 'enable contract' on the token you wish to stake. Once enabled, select the number of tokens you would like to stake. You can view the APR and feeds along with the return on investment calculator to make the best decision for you.

What are your future plans for staking?

More staking pools will be set up over time and the APR rates will be developed to offer strong returns to investors.

Can I farm on HODLX DEX?

You have several farms available with more coming soon. You can farm LP tokens you create and earn strong APRs on a continual basis. To realize your profits, simply 'harvest' the tokens you accumulate through farming and they will show in your wallet.

How do I farm on HODLX DEX?

To farm, you first need to 'add liquidity' – selecting two currencies that are listed as a pairing in the farm. Once you've created your LP pairing, you need to go to the farming page and select the farm you are providing your LP tokens to. First, you will need to 'Enable the farm', which incurs a small gas fee of around $0.50. Then you will need to 'Stake LP'. Once staked you will start earning the APR as indicated. To withdraw the earnings, simply click 'Harvest' once you've started farming.

What are the risks of farming?

The APRs on farming is high, however, farming does carry the risk of impermanent loss. This is where the price of the deposited assets changes since the deposit, the LP may be exposed to impermanent loss.

What are the future plans for the Farms?

We will be adding more farms in due course and developing the APR rates to offer investors incredible returns along with auto-compounding.

How does the referral scheme work?

Simply visit the referrals page and connect your wallet to get a unique referral code. This code can be given out to friends and family and you will earn 1% of the value of all trades made in the form of HODLX.