Don't just HODL, get paid to HODL
$HODL is the King of Reward Tokens
To HODL is to Hold on for Dear Life. We make this an amazing experience for our investors by providing continual reflections and BNB rewards in a deflationary system.



$HODL token launched on the Binance Smart Chain (BSC) in early May 2021 and has since delivered over 20,000 BNB in rewards to holders so far!
The only taxes you'll love

$HODL uses innovative transaction taxing to generate earnings for investors who hold, or 'HODL' their tokens. On every buy, sell, and transfer there is a 10% tax which is split and distributed as follows:
6% to a reward pool for investors
2% as reflections of $HODL to investors
1% to a lottery pool
1% to the liquidity pool on PancakeSwap

Passive Income made easy

The beauty of $HODL is that you can earn passive income, just by holding. The taxed tokens get converted into BNB and placed in a reward pool that all investors can access, every 7-days. For smaller investors reward stacking is available to allow the building up of rewards to ensure the amount being claimed is more than the network costs (gas fees).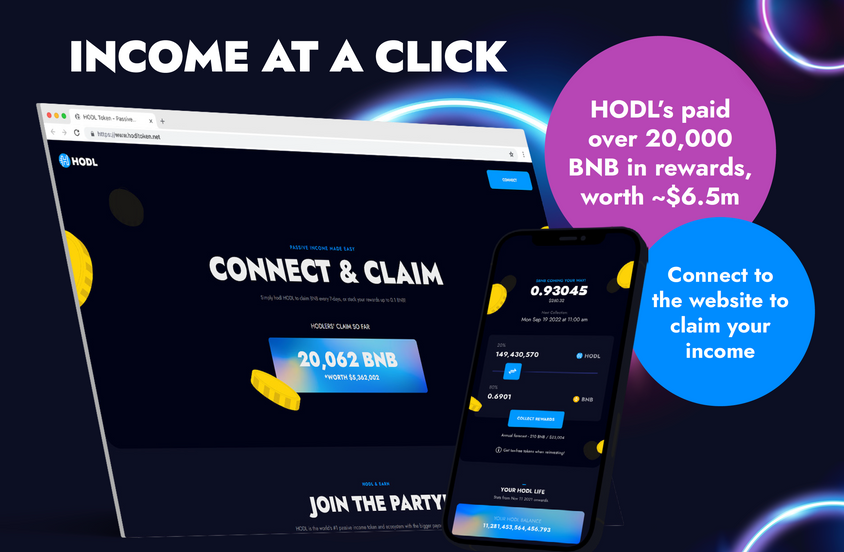 Designed to last

$HODL token has evolved into a highly-sophisticated and sustainable reward token with a number of features, including:
Hyperdeflationary with around 1% of every single transaction being burned
An automated lottery that sends the prizes and burns 30% of the prize pool
A sustainable reward pool that uses capping to stabilize reward payouts
'HODL' is the most-used word in cryptocurrency, representing the notion of holding on to your investment despite market turbulence in order to achieve the greatest gains in the long-term and avoid missing out when a project 'moons'. By operating under this iconic name, $HODL has a huge marketing advantage and major inherent search volume.
Deflation, made hyper

$HODL's supply is fixed at 1 Quadrillion tokens with deflationary protocols in place. The $HODL burn wallet contains over 27% of the supply and is included in the reflections protocol meaning that it receives its share of reflections, every time there is a buy, sell, or transfer of $HODL. In addition, 30% of the tokens in the lottery pool go to the burn wallet adding further deflation to the ecosystem. The overall result is that close to 1% of every transaction is burned making $HODL hyperdeflationary.

What does the future HODL?
$HODL's future is incredibly bright as it continues to establish itself as one of the most advanced and innovative tokens in the entire Defi space. You can view the roadmap to see future plans, including:
HODL App - a simple-to-use app with everything in one place and no wallet required
HODL Pay - a virtual card you can use to spend your rewards
Dashboard V2 - Defi's most-advanced investor dashboard
Reinvest rewards into NFTs and more

Useful links and info
What is $HODL?

$HODL is the highest-paying and longest-serving reward token on the Binance Smart Chain (BSC). At the heart of $HODL is the notion of being rewarded for HODLING - holding your tokens throughout periods of price increase and decrease. With $HODL, investors get access to BNB rewards every 7-days and reflections throughout, all within a hyperdeflationary ecosystem.

What is the key info on $HODL?

o Standard > BEP-20 (Binance Smart Chain) o Contract Address > https://bscscan.com/token/0x0e9766df73973abcfedde700497c57110ee5c301 o Audit > https://www.staysafu.org/audit/hodl o Transaction tax > 10% o Slippage > 12% o Max Supply > 1,000,000,000,000,000 (One Quadrillion)

What is the utility of $HODL?

$HODL delivers one of the most valuable forms of utility imaginable - continual passive income. Simply hold $HODL token and you will receive reflections and have access to BNB rewards every 7-days.

Is $HODL deflationary?

$HODL is hyperdeflationary with around 1% of every single transaction (buy, sell or transfer) going to the burn address.

What are the taxes on $HODL?

There is a 10% tax on $HODL, feeding the reward pool, lottery and reflections.

How can I trade $HODL?

You can buy $HODL through a range of exchanges which can be viewed under the '$HODL' menu with the link 'Exchanges'. To gain the full benefits of $HODL you will need to hold your tokens in a decentralized wallet such as Trust Wallet, MetaMask or Safepal. To buy or sell $HODL, you will need to select a slippage of 12%.